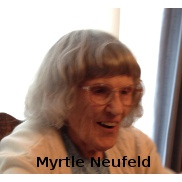 Myrtle Blabey Neufeld
You have heard people claim to live a life of prayer, but does prayer actually make a difference? Do real people carry out their lives guided by prayer and God's providence?
Author Myrtle Blabey Neufeld lived just such a life and has written the stories of many of her experiences as a missionary nurse married to a medical doctor. These stories are her personal experiences and her testimony of the way God has directed her paths.
Directed Paths will challenge your faith and your determination to serve God while giving you new strength and encouragement. Each story reflects a Biblical principle or promise as the author openly shares her prayers and God's answers.
This book is easy to read for young and old and is entertaining as well as inspirational.
Where to Buy
On Our Aer.io Store