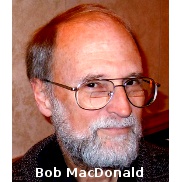 Robert MacDonald
Bob MacDonald was born in Montreal, Canada in 1945. He was educated at Bishop's College School in Lennoxville and at McGill University where he graduated with a Bachelor of Science degree in Mathematics in 1967. Bob spent his working life in data processing, working first for IBM, then at the BC Systems Corporation, and then self-employed as a teacher of systems across North America. In 1984, he helped re-establish Anthony Macauley Associates, a software firm which over the last 30 years has been recognized in Canada and around the world as a provider of Financial Management and Performance Measurement software.
Bob has been a liturgical singer and cantor for over 50 years. It is both as musician and as software expert that he has approached the Text of the Hebrew Bible. In Seeing the Psalter, he used database techniques to reveal the inner workings of the recurring words in the poetry. In the Song in the Night, we hear the ancient sounds of prophet, poet, lawgiver, and historian in performance.
Bob began detailed work in 2006 following the conference on the Epistle to the Hebrews at St Andrews, Scotland. He spent an intense study period in 2010 first at the University of Oxford Psalms conference, thereafter at Cambridge as a reader in the University Library. His works have been brought to completion through two Community Sabbatical Fellowships at the Centre for Studies in Religion and Society at the University of Victoria in 2011 and 2016.
From 2014 to 2019, Bob worked on and has now completed a translation of the Hebrew Bible with a view providing a close concordant reading for the music embedded in the accents of the text.