Robert C. McKibben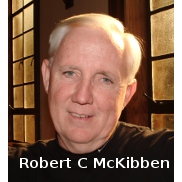 Robert C. McKibben
Dr. Robert C. McKibben was born in Orlando, Florida. As a boy Bob was raised in the Concord Park Methodist Church (later United Methodist) then joined Pine Hills United Methodist while in high school. He graduated from Evans High School in 1967. After high school Bob attended Florida State University where he received a degree in Music Education. Bob has also received a Master of Divinity degree and a Doctor of Ministry degree from Emory University.
Prior to entering the ministry, Reverend McKibben served 12 years in the United States Marine Corps as a pilot. Bob remained an active Christian and participated in base Chapel activities through most of his career. While stationed in Southern California Bob joined the Garden Grove Free Methodist Church in Garden Grove, CA. Upon returning to Pensacola, Florida as a flight instructor, Bob joined the Pensacola First UMC. It was here that he became absolutely convinced of God's call to full time pastoral ministry. Major McKibben left the Marine Corps and began his ministry as Youth Director and Choir Director of Milton First UMC. In 1983 Bob attended Chandler School of Theology at Emory University in Atlanta, Georgia. While in seminary, Bob studied under Dr. George Morris, noted author and professor of evangelism and the former director of The World Methodist Evangelism Institute.
Bob has been a full time pastor since leaving seminary. In February 1991, Dr. McKibben was recalled to active duty as a reserve officer to serve in support of Desert Shield/Desert Storm. After returning home, he was granted honorary retirement with 21 years of connected service.
Dr. McKibben has been the guest preacher/teacher/evangelist at Camp Meetings, Revivals, Seminars, Key Events and New Life Missions throughout the Southeast. He has chaired the Alabama-West Florida Conference Board of Evangelism, Committee on Worship and served on the Conference Vision 2000 Task Force. Additionally, Bob has twice served as Community Spiritual Director and on the Board of Directors for the Blue Lake Walk to Emmaus. Dr. McKibben has been designated a Growth Plus Consultant and is a faculty member of the Faith-Sharing Initiative, both sponsored by the General Board of Discipleship in Nashville. Bob was selected as a UMC/USA delegate to the World Methodist Evangelism Institute's Sixth International Evangelism Seminar held in July 1998.
Bob is married to Joquita Blakemore of Milton, Florida. They have five children and four grandchildren.
Education:
BME
Florida State University
1972
MDiv
Emory University
1986
DMin
Emory University
1989
Dissertation: "Incarnational Evangelization: Theological Criteria for Assessing Methods of Evangelization" by Robert C. McKibben, 1989
Contributor to:
"Filled with Power by the Spirit of the Lord" by Stephen C. Vanlandingham 1995
"Once Upon a Parable" by Stephen C. Vanlandingham 1996
"Intentional Evangelism" edited by Robert C. McKibben 1996
Churches Bob has served:
Milton First UMC (1980-1983)
Mount Gilead UMC in Atlanta (1983-1987)
Panama City First UMC (1987-1991)
Tabernacle UMC in Taylor, Alabama (1991-1993)
Christ UMC in Milton (1993-1997)
St. Mark UMC in Pensacola (1997-1999)
Pine Forest United Methodist Church 1999 – present
Parent Category: L-M