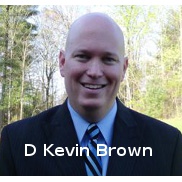 D. Kevin Brown
D. Kevin Brown is a native of Wilkes County, NC. He was born in Shelby, NC while his parents were in college. He accepted Jesus Christ as His Lord and Savior as a 10-year old boy. He describes himself as "homegrown" since he was raised in the Mt. Pleasant Baptist Church. "I truly am an Acts-type elder in that the church appointed one of its own to do the work of leading, teaching and discipling within the Body of Believers." Prior to being led to the work of the pastorate, Kevin worked as a businessman for 17+ years in the furniture, textile-apparel and millwork/hardwood flooring industries in various capacities within finance, sales, and upper management. He is a graduate of Appalachian State University with a double major in Marketing and Management, graduating magna cum laude.
Kevin has a vision to reach the community by preaching and teaching the Word of God. He has a passion for mission work that is local as well as abroad (Mexico and Ethiopia). The church supports various missionaries throughout the world (currently in nine countries). He practices expositional preaching, verse by verse through chapters and books of the Bible.
Kevin and his wife, Pam, have been married for 20 years and have four children, two biological, Katy (married to Josh) and Kandace and two adopted children from China, Clara and Andrew, and a beautiful granddaughter.
Author web site: D. Kevin Brown's Blog
---